This is Tai Chi: 50 Essential Questions and Answers. by Paul Read
50 snappy and alternative answers to basic questions beginners have about learning tai chi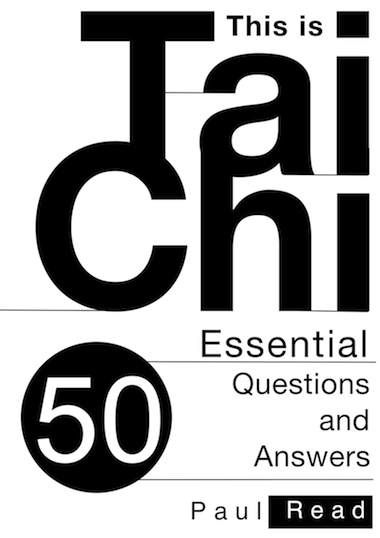 * What is Tai Chi and why is it taught as a Martial Art by some and as a Health Art or Way of Life by others?

* What are the origins of the art and why are there different styles?

* What is the "Form" and how long does it take to learn?

These are a few of the 50 simple, but important questions that are answered in this fascinating book full of anecdotes, facts and humour, that will help you to not only understand this ancient and noble art, but more importantly enable you to choose the class of Tai Chi that is right for you.

Divided into nine distinct subjects for easy reference:
The Basics
History
Tai Chi as a Martial Art
Health benefits
Energy sources
Form
Practice
Styles
Applications
Genre:
SPORTS & RECREATION / General
Secondary Genre:
SELF-HELP / General
Language:
English
Keywords:
Word Count:
18.000
Sales info:
At the moment, the English version of the ebook is exclusively on Amazon Kindle. The paperback is available too on Amazon. At times I do a promotion and it jumps up to Number 1 on the free charts. However, Tai Chi is a niche area and although all my books on tai chi do reasonably well, the subject matter is not as broad as general fiction. Having said that I know interest in Germany and France and South America for good books on tai Chi is strong.
It has remained a popular book, even though it has been avaialble now for several years. I'm hoping that this year I will start the audio book version.
Sample text:
Q1. Why learn Tai Chi?
A. Perhaps this is the question that begins our journey, but it is also the question to which we return again and again. Why learn, why practice and why invest time and energy into this most noble of arts? A single word answer is often "health". But health can be interpreted physically, mentally, spiritually, philosophically or even culturally. Throughout this book we shall be looking into all of these interpretations, but first let us try and see the larger picture.
When we begin to learn Tai Chi we embrace something unique in our lives. Tai Chi teaches us to slow down, to relax and to let things be. It teaches us that by emptying our minds we can find space to learn more about life than perhaps we thought. Often, we find this very difficult, as our culture does not always look too favourably on self-examination. However, in this instance, the little time we put aside for ourselves is genuine, qualitative time for ourselves and for our 'health'. Time for replenishing the spirit, time for leaving behind the toil of daily activities, time to recharge, rebuild our strength and quieten the mind
Whilst the rest of the planet finds itself distracted by the communications age and consequently accelerates in order just to keep up, the Tai Chi practitioner slows down, steps back and watches as it all rushes by. S/he breathes deeply, and while s/he may be distracted by technology and the 10,000 things (see chapter on Philosophy), a Tai Chi practitioner's attention is also diverted pleasantly by the texture of sunlight, the path of the moon or the movement of wind moving over water.
All of these are reasons to learn Tai Chi, yet for many it begins, once more, with health. Physically, you are choosing to do something positive in life, something that will play a consistent, incremental and beneficial role in building your overall constitution and improving your overall strength.
Book translation status:
The book is available for translation into any language except those listed below:
Language
Status

French

Greek

Author review:
Stefanos approached me to translate my book and at all times has been communicative, and productive. He was responsive to changes and supportive throughout. I'd not have any qualms about working with him again.

Italian

Portuguese

Author review:
Ricardo worked quickly, efficiently and was always consulting me on interpretations throughout the translation. He added extra material and was always responsive to suggestions.

Spanish

Author review:
Icxel Alondra is an enthusiastic and accommodating translator. She worked fast and with real quality, opening herself up to suggestions and advise on a difficult subject that was entirely new to her. I'd recommend her energy and attitude to any one else considering her translation skills.
Would you like to translate this book? Make an offer to the Rights Holder!